Coupons & Sales
This page features the latest SALES and COUPONS offered by Wall Decor Plus More!

*-*-*-*-*-
CANVAS SALE -- SALE -- SALE -- SALE -- CANVAS SALE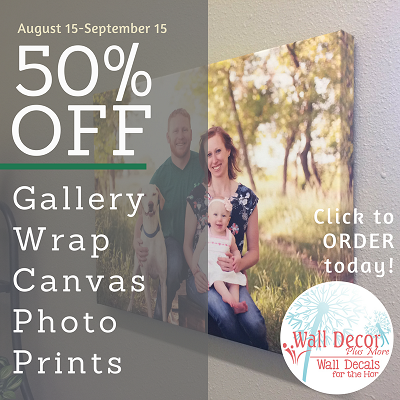 << August 15-September 15 >>
Take 50% off all purchases of Gallery Wrap Canvas Photo Prints!
. . . . .
Get your Heavy Duty Gallery Wrap Canvas Photo Prints for half price!
Uploading is easy - we know you will LOVE your canvas photo prints!
Click here to choose your size and begin uploading your favorite photos, your discounts will automatically show in your shopping cart.

*-*-*-*-*-
We offer wholesale discounts for vinyl decal orders over $100, contact us for more information!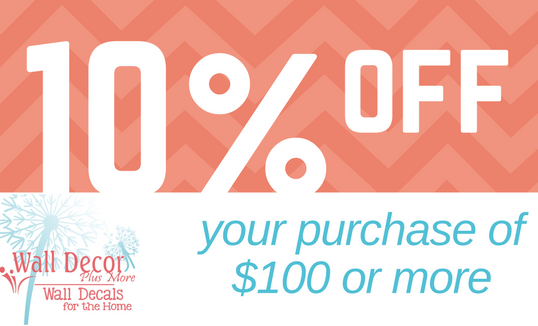 *-*-*-*-*-
BUY MORE, SAVE MORE!!
We have quantity discounts available on these items:
Scrabble Tiles
Scrabble Letter Tiles with Frame
Alphabet Scrabble Wall Tiles - 3inch and 6inch
Splatter & Splotches Wall Stickers
3inch Variety Dots
3inch Zebra Print Alphabet Letters
You will see notifications in the top portion of your cart with details on your discounts!
*-*-*-*-*-

Use this link to Show Us your Photos and earn your Coupon Code: Submit Your Adventure
WHOLESALE OVERSTOCK SALE!
We have an overstock of several different items and we want to offer them to you at a HIGHLY discounted price. The graphic only shows a FEW of the stickers available.
Please check the link below for a list of all items, available quantities and prices.
Then contact us for purchase and shipping details!
https://goo.gl/tDnvy3


*-*-*-*-*-
Visit our limited quantities SALE category! Items and quantities WHILES SUPPLIES LAST!
*-*-*-*-*-